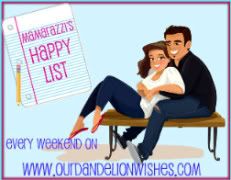 I found this while browsing the
Internet
...it's a chance for you to say what makes you happy. SO, this is my first one...let's see what makes my happy list
1. My DAUGHTER of course! She makes me all kinds of happy. Even when she does nothing, she makes me forget what worries me and makes me happy.
2. Trying to plan a gift for my niece. She will be 4 this year. I heard about this play called
Pinkalicious
and thought it would be perfect! I can't take my own daughter, but since they are coming to a theater in my hometown, I thought I would take my niece. I don't think I have ever seen a play or anything (well wait, I might have seen Grease off of Broadway, but I digress) I thought it would be a great way to make a 4 year old feel very special.
3. My family and friends. They always make me feel loved and special no matter what I throw at them.
4. One more week of maternity leave makes me happy. One more week where my daughter gets my undivided attention!
5. My new blog friend
Michelle
. She called me her blog peep today. I wish we lived closer so we could become
IRL
friends. But, in the meantime, I will just keep reading her blogs and buying cool girlie stuff for my sweet babes!
If you want to play along with Happy List, be sure to click the button at the top of my post to link up with Mamarazzi. This week she's doing a special giveaway for one participants.